​The "2018 Technology Trends" Seminar and an Agreement with Neolab Vietnam
---
DTU and Neolab Vietnam jointly organized a seminar entitled "2018 Technology Trends" and signed an agreement to facilitate academic exchanges and share work experiences with technology students before they graduate into the workplace.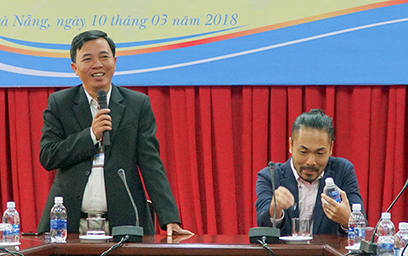 Dr. Nguyen Huu Phu, DTU Vice - Provost, speaking at the event
Neolab General Director Mr. Tsukasa Teramoto, Head of Training Mr. Nguyen Viet Vu, Ms. Le Nguyen Hoang Kim from Administration, DTU Vice-Provost Dr. Nguyen Huu Phu, Dean of the Faculty of Information Technology, Dr. Dang Viet Hung, Dean of the International School Mr. Nguyen Duc Man and IT students attended the seminar. Mr. Vu overviewed technology trends in 2018, such as artificial intelligence (AI), Blockchain applications, virtual and augmented reality (VR/AR) and the internet of things (IoT).
AI is a technology that relates to the behavior, learning, and the smart adaptability of machines, providing them with ways to process information in the same way as humans. AI products, such as integrated smart AI facial recognition systems, virtual assistants, automated programs and self-driving cars, are becoming more and more common. Big technology companies are investing in, researching and developing new software such as Amazon Alexa and Google Assistant, and, in China, AliPay is a new facial recognition payment application, all aiming to provide better user support.
Meanwhile, Blockchain is a practical solution for the storage, authentication and protection of data, allowing transparent sharing of real-time information and conservation of storage space, offering high security. Blockchain allows data transfers without an intermediary authentication system and uses independent nodes to verify the authenticity of system information, with potential applications in many areas, including Finance and Banking, Insurance and Securities.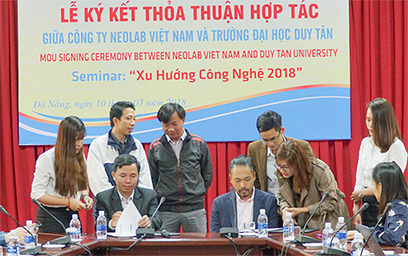 DTU and Neolab Vietnam Ltd. sign an agreement
"As well as strong developments in AI and Blockchain, many other virtual reality applications are being created and developed by Google, Microsoft, Facebook (Oculus Rift), and so on," Mr. Vu added. "For example, in April 2017, Facebook officially rolled out Spaces, a VR social network allowing users to meet and interact with each other in a private space, portrayed by their own comical cartoon characters. Interaction doesn't just stop at messaging. Users can use sound and body language to chat, draw, watch 360° videos, make video calls through the Messenger app and take selfies of their own cartoon characters. Microsoft is also developing Halolens virtual reality glasses that allow people to interact with walls and table tops, as in science-fiction movies."
DTU and Neolab Vietnam signed a memorandum of understanding allowing students to train and work at Neolab, as Ruby, iOS and PHP programmers, after passing a series of three interviews.