DTU Holds the first 2019 IT Job Fair
---
On May 11, DTU held its first 2019 IT Job Fair, with representatives from 21 national businesses recruiting for a total of one thousand new positions. Companies tested, interviewed and hired young, high-quality graduates.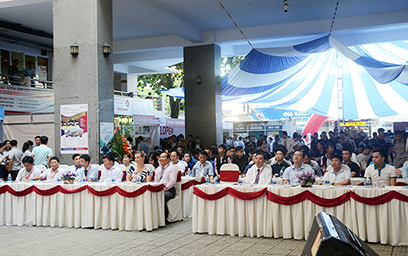 Business representatives and DTU students at the fair
The fair was attended by IT companies, such as Gameloft Vietnam, Sun Asterisk Vietnam, MTI Technology Vietnam, GMO-Z.com RunSystem, GMO-Z.com Vietnam Lab Center, MGM Technology Partners Vietnam, Axon Active Vietnam- Danang Branch, CO-WELL ASIA Co., Ltd; CMC Telecom Danang and others.
DTU Vice-Provost, Dr. Nguyen Huu Phu, said: "With the motto "All for students' rights and future careers", DTU always takes care to create opportunities for graduates to find jobs appropriate to their majors and the DTU Center for Employment Promotion was founded to help them. For the past 12 years, the university has been working with the Nguoi Lao Dong newspaper to organize annual job fairs. Now, in 2019, the increased demand for employees has motivated DTU to hold a special job fair for IT graduates only, to facilitate them to find the jobs they have been dreaming of and then gain the experience to excel in their future careers."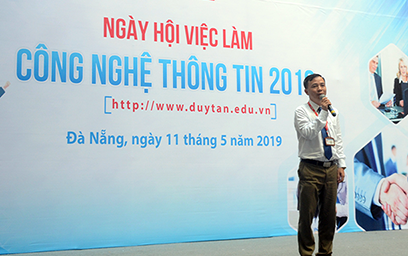 DTU Vice-Provost, Dr. Nguyen Huu Phu, speaks
Ms. Hanna Fiedler, Marketing Director of MGM Technology Partners Vietnam, said:"MGM Technology Partners chose Danang, which has been home to dedicated and well-qualified programmers, for its Vietnamese headquarters four years ago. Pprogrammers can be divided into two groups, senior professionals and new graduates. We employ many DTU graduates at MGM Technology Partners and value the diversification of the DTU education, which is a key factor in supplying us with better-qualified staff to meet our increasingly needs."
According to the 2018 report of the Commonwealth Scientific and Industrial Research Organization on the digital economy in Vietnam, the country will need a million IT professionals in 2020, mostly in Artificial intelligence, Cloud storage, Virtual reality, Augmented Reality and Blockchain, as well as the Internet of Things, e-Commerce, business processes and IT outsourcing. The university has always had a policy of using IT to spearhead its educational strategy. As well as assembling a team of expert lecturers and investing in modern facilities and equipment, DTU collaborates with Carnegie Mellon, one of the four leading American IT universities, to implement advanced international-standard programs in Software Engineering, Information Networks, and Network Security. Also, DTU has partnered with many big IT companies, national and overseas, to conduct professional training courses and career orientation sessions for students to secure good jobs after graduation.
(Media Center)