DTU Students Come Sixth at the 2016 WhiteHat Grand Prix
---
On December 18th, after 24 hours of fierce competition, the ISITDTU team persevered against other strong participants from 40 countries and finished 6th in the 2016 WhiteHat Grand Prix.
The WhiteHat Grand Prix is held by Bkav, with "Discovering Vietnam" as its theme. This was the second international contest, which drew in 300 teams from 40 countries worldwide to compete at https://grandprix.whitehatvn.com/. Many of them were highly ranked by CTFTimes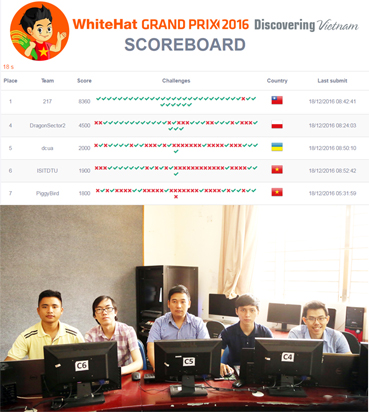 The ISITDTU team
As usual, contestants competed online to capture-the-flag (CTF) in Jeopardy format. The contest requires a specialized knowledge of computer security, based on a cyberwar game, focusing on the skills of attacking and defending the contestants' computer networks. This method is commonly used in information security contests. During the game, teams must access the host server and solve challenges in the five areas of Reverse (decompiling), Pwnable (exploiting software vulnerabilities), Web Exploit (Vulnerabilities), Crypto (cryptography) and Forensics (digital investigation).
After 25 only minutes, the ISITDTU team scored 100 points by successfully solving the Web 100 challenge and becoming one of the earliest names to appear on the contest classification board. The DTU team had to compete for 24 hours non-stop, when most other security competitions usually take around eight to twelve hours and competition was much stronger than 2015, when the ISITDTU team scored 2,000 points and came ninth. However, with their teamwork and determination, the ISITDTU "warriors" survived until the last minute and came sixth, with 1,900 points, just 100 points less than the fifth ranked team, the Ukrainian dcua, which currently occupies first position on the CTFTimes rankings.
Huynh Thanh Quang of the DTU International School was participating in the contest for the first time and said: "We have spent three months practicing under DTU lecturers before the contest, which has provided me with extra opportunities to broaden my specialized knowledge and skills and learn from Network Security experts from all over the world."
Over the years, DTU students have attained impressive accomplishments at regional and national competitions, including:
(1) Coming 6th in the 2015 Cyber SeaGame contest.
(2) Coming 4th in the 2016 SCRT Information Security competition in Geneva, Switzerland, as the sole Vietnamese participant.
(3) Becoming the only team from the Central Region to enter the National Finals of the Information Security Students Contest and winning several valuable awards.
Files:
---