DTU Students Win 2017 Central Vietnam Information Security Championship
---
Building on years of success in national information security contests, DTU again captured almost all of the top prizes in the 2017 Central Vietnam Information Security contest. Beating strong teams from Central Vietnamese universities, such as the Danang University of Technology, Quang Binh University and the University of Telecommunications, the DTU students won one first and two second prizes, becoming the only university in the region to see two of its teams make it to the National finals, to be held in Danang on November 18th.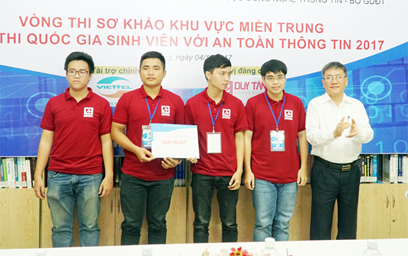 Mr. Nguyen Quang Thanh, Director of Danang Department of Information & Communications, awards first prize to the ISIT-DTU1 team
For eight consecutive hours, the teams competed in online information security exercises based on the "jeopardy" format, focused on the skills of attacking their opponents and seizing their network resources while trying to protect their own. At the end of the competition, the ISIT-DTU1 came first by solving 4 tests and scoring 400 points. Two other DTU teams, Buf-DTU 2 and ISIT-DTU 3, were close behind and shared second prize. Two third prizes were awarded to the QBU-No1 team from Quang Binh University and the BKDN_Fivemountains team from the Danang University of Technology.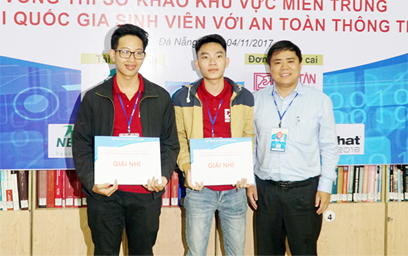 Dr. Vo Thanh Hai, DTU Vice-Provost, awards second prize to the Buf-DTU 2 and ISIT-DTU 3 teams
Moving on to the 2017 National finals, the ISIT-DTU 1 and Buf-DTU 2 teams will compete with the N/A team from the University of Engineering & Technology, the UIT-r3s0L and the zono@UIT teams from the University of Information Technology in HCMC, the BIGGEAR_BK team from the Hanoi University of Technology, the Emgai Rain team from the People's Security Academy, Bl4ckH0l3 from the Academy of Cryptographic Technology, J0k3r from the Military Technical Academy and PTIT Bobo from the Posts & Telecommunications Institute of Technology.
Nguyen Oanh Thuong, from the ISIT-DTU1 team, said: "We have made every effort and traditionally DTU is proud to always win first prizes in the regional qualifying rounds. Our great success so far can be attributed to our keen intelligence and teamwork. The awards we won in the 2017 Student Information Security Contest encouraged us to continue our IT research. We want to participate in more contests to broaden our Cyber Security knowledge, challenge ourselves to become skilled professionals and contribute to enforcing national network security in Vietnam. Previously, we won third prize at the 11th WhiteHat international network security contest in 2016 and were ranked seventh in the top 10 teams at the 2016 HITB GSEC information security contest in Singapore. With the experience gained all these contests, we are rigidly focused on winning a top prize in the National finals, to be held here in Danang."
For further information, please visit The Advanced Software Engineering Program at DTU
Files:
---